ITS is Oracle Authorised WDP Partner, Participant will get Oracle Official ekits, course completion certificates from Oracle University.
As a authorised Workforce Development program (WDP) of Oracle University in Ahmedabad,Gujarat, India ITS' offers Oracle DBA OCP certification. For Oracle DBA OCA, Oracle DBA OCP, Oracle DBA OCM and Oracle exam vouchers contact +919879558787, +919825306119
Live classroom and Online training options :
Apart from live classroom, ITS offers oracle database online course with instructor led training.
Oracle DBA Training : (OCA / OCP)
Oracle database is having maximum market share compared to other databases. 97% of Global Fortune 500 companies using Oracle software . It stands number one when performance and security measures are compared among frontline databases. DBAs are getting better salary, life style and job security.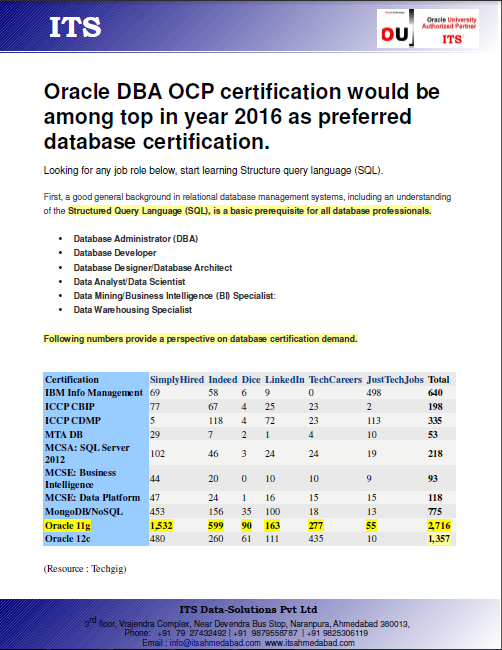 Student Benefits
Oracle License Ekit from Oracle university
25% discount on certification exam (3 Months Validity*)
Course completion certificate from Oracle University
Oracle 11g SQL – 40 hours
Select statement
Restricting and sorting data
Single row function
Conditional expressions
Group functions
Joins
Subqueries
Set operators
Manipulating data
DDL to manage tables
Schema
User access control
Manage Data dictionary views
large data sets
different time zones
Retrieving data using subqueries
Regular expression support
Download Brochure
Oracle 11g Database Administration Workshop-I – 40 Hours
Exploring the Oracle Database Architecture
Installing your Oracle Software
Creating an Oracle Database using DBCA
Managing Database instance
Managing ASM instance
Configuring Oracle network environment
Managing Oracle datbase storage structures
Administering user security
Managing data concurrency
Managing undo data
Implementing Oracle database auditing
Database maintenance
Performance Management
Backup and Recovery concepts
Performing database backups
Performing database recovery
Moving Data
Working with support.
Download Brochure
Oracle 11g Database Administration Workshop-II – 40 Hours
Introduction
Configuring Recovery Manager
Using Recovery Manager Recovering from Noncritical Losses
Database Recovery Flashback
Dealing with Database Corruption
Monitoring and Managing Memory
Automatic Performance Management
Managing Schema Objects, Managing Storage
Automatic Storage Management Managing Resources
Automating Tasks with the Scheduler Database Security
Using Globalization Support Workshop
Download Brochure
Years real time experience
Supporting live database servers
Students and professionals trained
Oracle DBA Certification Exams Chart
| | | | | |
| --- | --- | --- | --- | --- |
| Subject Name | Exam Code | Questions | Exam Duration | Passing at |
| 11g SQL | 1z0-051 | 64 | 120 Minutes | 60.00% |
| 11g Admin WS-I | 1z0-052 | 70 | 90 Minutes | 66.00% |
| 11g Admin WS-II | 1z0-053 | 78 | 105 Minutes | 66.00% |
No. of exam questions, passing percentage and duration may be changed without prior notice by Oracle.
OCA = Passing two exams 1z0-051 and 1z0-052
OCP = Passing three exams 1z0-051, 1z0-052 and 1z0-053
Exam Preparation Support ITS offers extensive exam preparation support to all students to secure OCA, OCP or respective certifications. There is more than 97% passing ratio in certification exams.
Please follow and like us: