ITS is Oracle Authorised WDP Partner, Participant will get Oracle Official ekits, course completion certificates from Oracle University.
As a authorised Workforce Development program (WDP) of Oracle University in Ahmedabad,Gujarat, India ITS' offers Oracle DBA OCP certification. For Oracle DBA OCA, Oracle DBA OCP, Oracle DBA OCM and Oracle exam vouchers contact +919879558787, +919825306119
Live classroom and Online training options : Apart from live classroom, ITS offers oracle database online course with instructor led training.
Oracle DBA Training : (OCA / OCP)
Oracle DBA Upgrade Training : (From 9i/10g/11g OCP to 12c OCP)
Oracle database is having maximum market share compared to other databases. 97% of Global Fortune 500 companies using Oracle software . It stands number one when performance and security measures are compared among frontline databases. DBAs are getting better salary, life style and job security.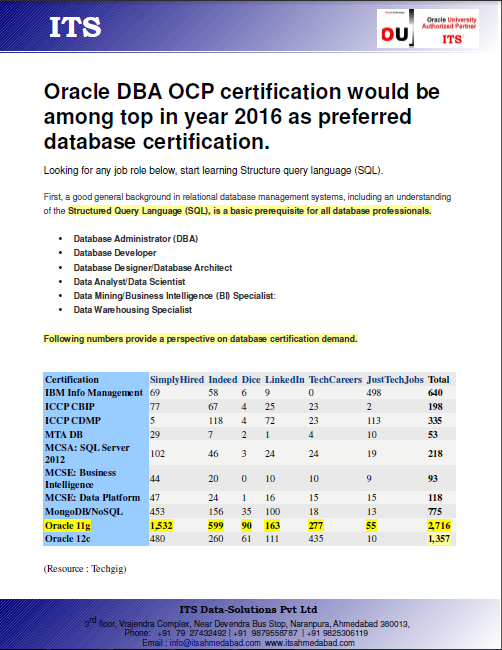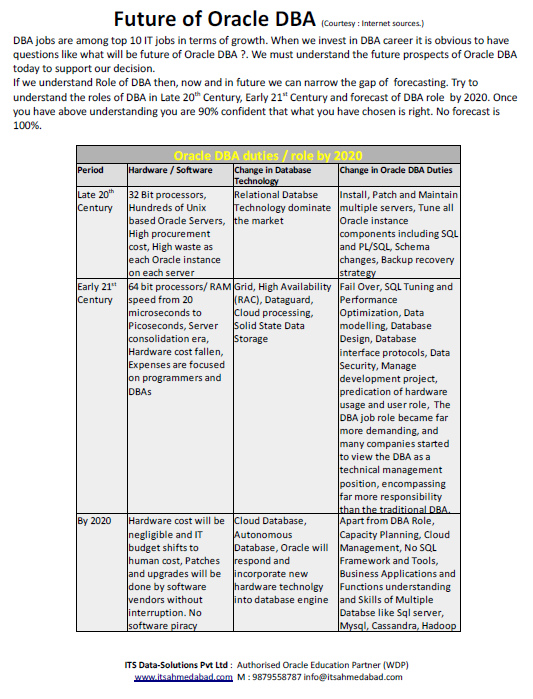 Is RDBMS will be replaced by Bigdata ?
Answer is NO. For example, Hadoop can not validate dates, account balances the way Oracle, MySQL database (RDBMS Do). Hadoop requires another layer for interpretation and verification of Data. Hadoop is best fit for "Speedy data processing operations of large data sets. That is reason Why Hadoop on SQL become more popular as weakness of both resolved.So RDBMS can not be replaced by Hadoop / Bigdata.
Is Hadoop / Big data / NoSQL knowledge is required for Oracle / SQL Server / MySQL DBA ?
Answer is YES. Knowledge of NoSQL Databases will definately help current DBAs for better job prospects.
Is it better to have multiple RDBMS skills? For example, I am Oracle DBA, is it better to have SQL server skills along with Oracle DB skills ?
Answer is YES. I am supporting lots of companies for Database Administration where i have seen major enterprise level companies use different databases for different applications. If you have multiple databases (RDBMS) skills you will definitely have upper hand in all projects and opportunities. With multiple database skills your job would be more secure and pay you more than single RDBMS knowledge workers. Infect multiple database knowledge gives you freedom for job switch, easily employable while relocating self.
Student Benefits
Oracle License Ekit from Oracle university
25% discount on certification exam (3 Months Validity*)
Course completion certificate from Oracle University
Years real time experience
Supporting live database servers
Students and professionals trained
Oracle DBA Certification Exams Chart
| | | | | |
| --- | --- | --- | --- | --- |
| Subject Name | Exam Code | Questions | Exam Duration | Passing at |
| 12c SQL | 1z0-061 | 75 | 120 Minutes | 65.00% |
| 12c Installation and Administration | 1z0-062 | 95 | 150 Minutes | 67.00% |
| 12c Advanced Administration | 1z0-063 | 80 | 120 Minutes | 60.00% |
No. of exam questions, passing percentage and duration may be changed without prior notice by Oracle.
OCA = Passing two exams 1z0-061 and 1z0-062
OCP = Passing three exams 1z0-061, 1z0-062 and 1z0-063
Exam Preparation Support ITS offers extensive exam preparation support to all students to secure OCA, OCP or respective certifications. There is more than 97% passing ratio in certification exams.